The eventful personal story of Stefan Beiten, founder of The Argonauts, in his own words.
For as long as I can remember, there has been an insatiable desire within me, an urge, or force which compels me to action. Coming from an entrepreneurial family, it was only natural that it would be channelled into enterprise. In school, when I was 16 years old, my first venture involved fixing bikes. I gained the nickname 'bicycle doctor'. My next teenage venture was exporting German cars to the US. Through maintaining a close relationship with a former classmate in the US, I was able to co-found an export company that would reach $1m in sales. That was when I first started seeing the power of close relationships.
Later, while studying law and history in Munich I combined my love of photography and marketing, and founded Images, an advertising firm which gained notoriety through our ad campaigns with Philip Morris and other blue chip clients. Then my legal path took me to Los Angeles to work at a boutique entertainment law firm. While studying comparative law at UCLA and Berkeley. Wanting to gain a more diverse range of experience, I entered investment banking by joining ABM Amro Bank in London and consequently gave birth to my own firm, Argo Ventures, a private investment firm. Our first project was Greenlight Media, responsible for the animated series Simsalagrimm, which I authored through the inspiration of my oldest daughter. It was also then I learned the importance of investing in my personal growth. If I hadn't invested in my education and pursued a diverse range of experiences, I would not have learned the workings of the media industry. The series went on to be a hit both domestically and abroad.
I felt like nothing could stop me. I was practicing law and building companies, all the while maintaining a family life with my wife and daughter and cherishing life to the fullest with the arrival of my second daughter. My next step was to launch an animation film fund and I raised ca. 170M Deutschmarks, with the successive fund at a volume of 240M Deutschmarks already signed with the banks. This was around the break of the millennium and for the more veteran reader, you have already anticipated what comes next.
With the advent of the .com bust of 2002, Greenlight Media received a stake through the heart. Overnight, the company bled from 70 employees to 5. The family we had built and the aspirations we shared were torn apart by forces larger than ourselves. While we struggled to stay afloat, my sister died as a consequence of clinical depression. Her death crushed my parents and almost crushed me. But as the heartbeat of my family and my company were on the brink of stopping, a new one came to life. My wife was pregnant, giving me a lone light in a time of darkness.
When you are on the brink of failure, you begin to question everything. I wasn't sure what it was yet – but the experience made me reflect and ask myself deeper questions about my purpose. Now looking back, I can see this moment as the crisis that would begin a chain of events leading to far greater heights. Failure can either break you or become your catalyst and it was through this desperate moment that I came up with my best ideas yet.
Privately, the birth of my son was a turning point. It fueled me to restructure Greenlight Media and we went on to secure a revolutionary five-pictures deal with the BBC Worldwide. Deep Blue would be the first project and it would go on to gross $30m in box office sales, surpassing records. Building on the success of Deep Blue came the extraordinary performance of the Planet Earth franchise and we made media history. Parallel to Greenlight Media, I helped Berlin Atlantic Group to become a leading investment company in Germany with more than US$ 1bn AUM as well as Gate 5 to grow from a small tech start-up to be sold to Nokia and become the second largest digital mapping company in the world.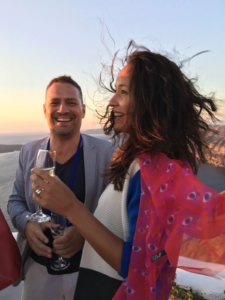 On paper, I was on top of my game. I had surpassed my previous financial best and there was much more room for growth. But the feelings I had many years ago started to come back; the feelings of uncertainty and incompleteness. The truth came out in a dinner with Tony Robbins in 2008. At that time, I was a well-known and successful entrepreneur. I had what so many only dreamed about. Then Tony asked me if I actually felt fulfilled through all my achievements; and the answer was no. I was still missing fulfillment.
Over the years, I had accrued and mastered different domains; exports, film, and finance were just a few of the industries I dabbled in. I had acquired the 'what' and 'how' of entrepreneurship, but there was still not an answer to a simple resonating question; why? It's not a question you can simply ask yourself and receive an answer. It's something that can only be uncovered or created.
The following financial crisis triggered by the Lehmann Group would force a merger between Wachovia Bank and Wells Fargo. The collateral damage? The Berlin Atlantic Group. But that wasn't all. At the same time, it was uncovered that there were hostile actors in my midst. The business attacks failed, but I paid a costly personal price. After 23 years of marriage, the burdens of this hard time weighed heavily on my family. My marriage did not survive.
Although I had failed in the past, nothing could prepare me for both the professional and personal crisis I was facing; it could not get any worse for me. And then the answer to the big question came; my why. What was all this achievement for? From fixing bikes at age 16 to documenting the beauty of the earth, it was suddenly clear to me now and my life sense.
What I truly wanted was to make a positive impact on others. And if you want to make a big impact, you have to truly know yourself; something which can only come from being humbled by the world. You have to invest in your own growth, develop your character and figure out how the universe works. You have to be open to being helped, and also helping in communion with others. With these new lessons learned and a clear purpose, I got back to work.
In the following years, I rebuilt my private life with my fiancée and am blessed to have had my children come out of our family crisis stronger than ever. I went on to see further success and after several subsequent business wins, it was time to put my purpose at the forefront of my life. I asked myself; how can I maximize the impact I make on the world? From my collection of experiences, there were two things that came to the forefront: conscious business leadership as a vehicle to solve problems and the power of uniting people.
I have since gone on to create my own network of elite impact-makers in the form of The Argonauts, hoping to channel the world's greatest leaders and talents into solving the biggest problems from their collective points of influence. Together with my Argonaut peers, we have managed to build a lifelong, global community with a focus on personal and entrepreneurial growth, while holding the same core values.
We all go through similar experiences and challenges to the ones I faced: crisis of business, crisis of family and crisis of self. Leading a business is one of the most challenging and rewarding pursuits in life, but you don't need to make the journey alone. We can empower each other with the collective wisdom and strength of a regular Trust Circle. This peer mentorship would have helped me avoid past costly traps and find smart shortcuts to professional success. This would have also given me a safety net to take greater risks, and a catapult to hurdle the big challenges.
I'm telling you my story because we can all learn from each others life experiences and I wish someone had shown me the beauty of community sharing and support sooner in life. Now that I have found balance and fulfillment, I can share that experience with other daring business leaders, always seeking more out of life.